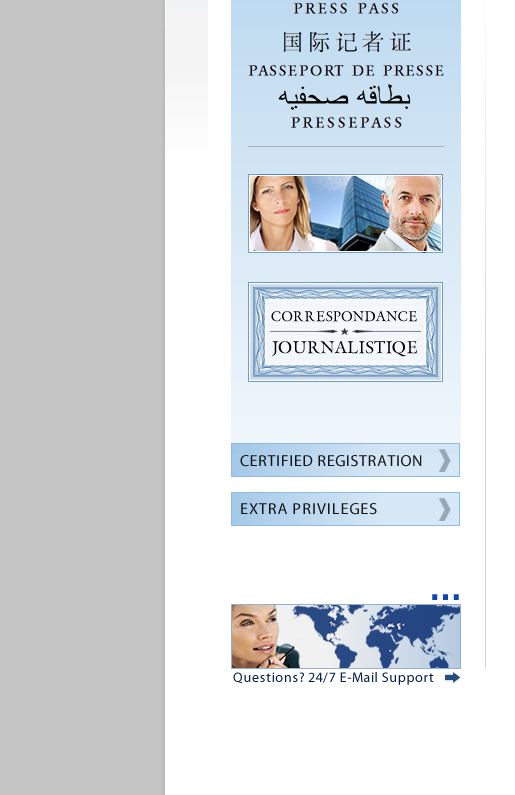 Security features, legitimization and fees
Are you eager to expand your activities as a journalist, press photographer or reporter and to establish international press and industry contacts? Insiders know that having a PressPass is key to be successful at these and other journalistic ventures. The pass makes an excellent impression on your contacts and identifies you – the holder – as an esteemed representative of the press. However, this document of identification is not only successfully used by media professionals of all industries, but also by newcomers to the world of the media and the press.

Features, issuance fees and validity:
• Cover: Gold foil embossing on linen structure
• Certain text components are translated into 22 languages
• Volume: 52 pages with security background
• Pass size: approx. 88 x 125 mm, rounded corners
• Identification number holes: Needle perforated
• Validity: various expiration dates, maximum through 2020
• Additional details: - Review it here -
Press Pass Standard: one-time fee for issuance of pass EUR 167

Valid through the end of 2017. Extension optional as of 2018: EUR 48 per annum
Press Pass Executive: one-time fee for issuance of pass EUR 182

Valid through the end of 2018. Extension optional as of 2019: EUR 48 per annum
The fees due through 2018 are already included
Includes press sign,

value EUR 30


Hereby

total savings

compared to standard version:

EUR 81
Press Pass Ambassador: one-time fee for issuance of pass EUR 197

Valid through the end of 2020.
The fees due through 2020 are already included (new pass issued as of 2021)
Includes press sign

and

premium quality PressPass wallet,

value EUR 50


Hereby

total savings

compared to standard version:

EUR 162
Optional services: Express handling/express shipping
Shipping within 72 hours. Europe: 32 EUR | Worldwide: 62 EUR
Standard processing time: 14 to 18 days
At a glance: Fees and period of validity

Standard

Valid until 2017

Executive

Valid until 2018

Ambassador

Valid until 2020

Service fee (one-time fee):

167 EUR

182 EUR

197 EUR

Costs for 2017:

0 EUR

0 EUR

0 EUR

Extension 2018 (if desired):

48 EUR

0 EUR

0 EUR

Extension 2019 (if desired):

48 EUR

48 EUR

0 EUR

Extension 2020 (if desired):

48 EUR

48 EUR

0 EUR

Overall cost until 2020:

press sign
includes

press sign and
wallet incudes

Info:
the fees in
other
currencys you can calculate with this currency converter:
oanda.com

Special features – the details:
• Special paper with 2-color iris sequence
• Hologram (control label)
• Watermark
• Stitched in foil protects passport photo
• Barcode detection
• Approval number
• Guilloche
• Individual stamping
• Verification stamps
• Entries
• Imprinted certificate of authenticity
• Registration confirmation (Central Register)
• Fingerprints/encoding
• Initials on all pages
Additional entries for:
• Authorizations
• Memberships
• International Press Charter (excerpt)
Government agency information on topics:
• Journalistic work
• Technical equipment
• Electronic inspections
Entry areas for editorial collaborations:
• Editorial Cooperation
• Accreditations
• International emergency phone numbers
• Medical information
More benefits: included with the executive & ambassador versions:

International press sign in 7 languages. Only included with the ambassador version: PressPass wallet, leather design (engraved). Protect it
against scratches
and worn off corners and other traces of wear and tear with the representative PressPass wallet. It is the most appropriate way to keep your pass secure at all times.
Request your PressPass now and secure your preferred status.
Enjoy special privileges: Order PressPass