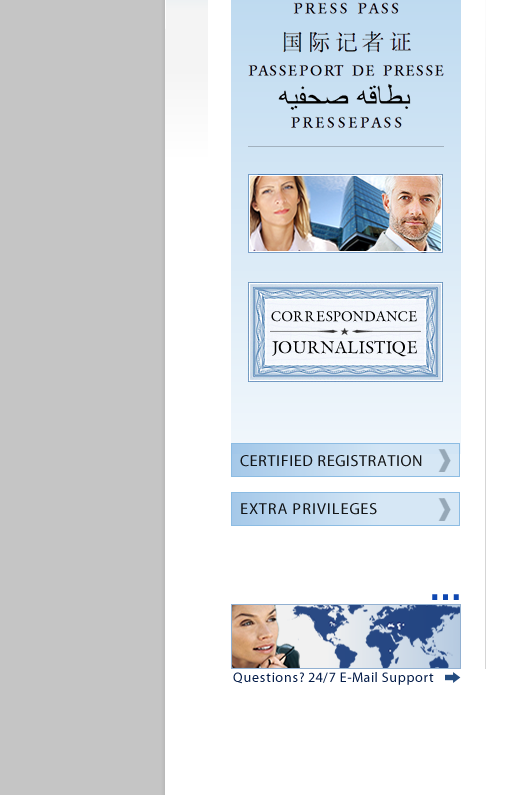 Requirements, questions and details to GNS Press
GNS Press successfully supports the press work of numerous associations, corporations and agencies in the sector of online supported mass media. The independent news and press portal European News Agency (ENA), for instance, offers journalists, media creators or newcomers interesting alternatives for the publication of editorial content. Reports, news, stories, photos and event information can be published via ENA, which also provides publication verification services. More details? Please click here:
European-News-Agency.Com
Nonetheless, GNS Press doesn't just help journalistic work get a presence in the media. As an international organization for journalists, GNS fosters the development of individuals engaged in the journalistic process (regardless of whether they are full-time professionals or part time freelancers). The organization has the right to issue press documents (e.g. press identification cards or passport of the press). Some important information you should have about the passport of the press . Below, you will find answers to the most important questions:

1. Who can apply for a passport? What are the eligibility requirements?

Anyone who does journalistic work (regardless of whether the work is done part time, full time or during your time off) meets the
eligibility
requirements to receive the passport of the press. Regardless of your country of residence, if you are an individual engaged in journalistic work anywhere in the world, you can apply for the passport of the press, no matter what your area of expertise or portfolio.

2. Why do I need a passport of the press? Which benefits will I be able to enjoy?

Having a passport of the press will make your international journalistic work easier. If you are engaged in documentary work, on assignment as a
research journalist
or as an event reporter, you will often need to gain access to certain events or places (backstage, mixed zone, etc.). A passport of the press facilitates this kind of access. If you need to get information from government agencies, accreditations and perform investigative research for special information, the passport of the press. will also prove very helpful. A special editorial entry can be placed in your pass for these purposes.

3. Who issues the passport ot the press? How long does it remain in effect?

The passport, which can be used around the world, is issued by the internationally registered association or journalists and press representatives, the GNS Press Association. The organi-zation was established as early as 1991 and boasts 8,000 members in more than 30 countries. GNS Press has been a popular alternative with freelance professionals, such as reporters, press photographers, journalists, media specialists and PR experts (including those doing vo-luntary work). For more information on GNS Press –
please click here
-

The passport of the press. can be used around the world and is issued by a government agency registered journalistic association. The passport is the perfect tool for all journalists and media creators (e.g. reporters, press photographers, bloggers, video and research journalists, online editors, speakers for organizations and corporations who interact with the press and public relations managers). Benefits:


• Part-time freelancers or press representatives on sporadic assignments are not excluded
• Simple, forthright and transparent processing
• The costs for processing, postage and issuance are all included
• No costly annual fee, fair all-inclusive pricing


Special service: Upon request, you will receive a confirmation that you are registered as a professional journalist with the GNS and/or that you are in a position to do editorial work for news and press portal European News Agency. The GNS authorized passport of the press. will be valid as of the date of its issuance. For further details on how long it takes to issue the pass and about the service fees please click - here -


Europe's leading agency for part-time freelance journalists

GNS Press is an officially registered association for journalists and press staff (Register PO20 00133258/Department of State). It also supports
part-time
journalists. GNS is
recognized
by the EUCJ/European Chamber of Journalists, and was awarded the status of an Authorized Member (Member No. EU 21123-7).
GNS Press considers itself an
independent
representative of the interests of internationally engaged journalists, press photographers, media experts and reporters. In this context, GNS Press fosters the sharing of professional information and experiences.
| | | |
| --- | --- | --- |
| | | Order your passport of the press today and take advantage of special privileges. For smart professionals: Apply your passport now |