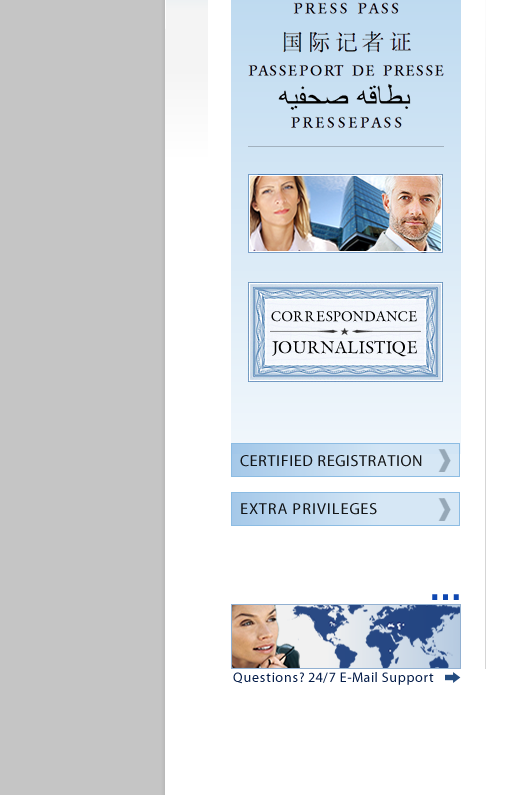 Passport of the press for journalists on international assignments
Enjoy more privileges: You will be amazed by all the special opportunities and options you will be able to take advantage of! The fact that press and media representatives frequently have it just a little easier in life has long ceased to be insider knowledge. After all, journalists do enjoy
VIP treatment.
They are indeed part of a group that loves to exude the aura of being a fasci-nating industry. If reporters pulls out a passport of the press, many companies will offer big discounts on products. But that's not all: Invitations, extra services, discounted cars. shopping vouchers - for press representatives it is a given that they
get to enjoy
these privileges.
Comments by some of the satisfied users:

Daniella Hubbard (23, journalist in France):
»…my press research is now 100% successful…«

Susan Wever (34, press photographer in Switzerland):
»…a real door opener…«

Sven Schwarz (58, freelance journalist in Germany):
»…it makes networking as easy as child's play…«

William S. King (29, event reporter in Great Britain):
»…the top alternative to the UK Press Card commonly used in England…«

Domenic Gerdi (38, online journalist in Italy):
»…it leaves an excellent impression…«

Fiona Simons (42, editor in Spain):
»…versatile, highly beneficial…«

Dale Walda (reporter in the Netherlands):
»…it's almost like driving in a journalistic fast lane…«

Make sure you get your end of these bargains, as a passport holder you will be part of this exclusive circle! Also remember: In many countries it is much easier to go through passport control, immigration and customs with an original passport of the press. It will also help you get accreditations. The certified passport also serves as a protection document for journalists and verifies the fact that you are doing journalistic work whenever you need to show evidence to third parties.
Interviews and press conference:
Pressphotographer / Premieres:
Accreditation for events:
Backstage area:
International accreditations:
Security and access control:
Reporting from conflict areas:
Access to controlled or military areas:
Access authorization to blocked areas:
Photo session and red carpet events:
Media coverage at demonstrations:
Photo story from the war zone:
A rare opportunity: Passport of the Press with guaranteed benefits

Remember: As a journalist, you work as a freelancer. You do not have to do journalistic work. Nonetheless you can enjoy benefits similar to those generally offered to full-time career press representatives. As a result, you will be able to profit from the best of both worlds: Many event organizers, institutions, and corporations will facilitate the journalistic participation in programs if you are able to present your pass. If you are asked to name the media organization you are working for, you can respond honestly and tell everyone that you are a free-lance research journalist or that you are working for the European-Newsagency. You will enjoy these benefits:
• Passport of the press: choose one of three versions - standard, executive or ambassador
• Use immediately – around the world (20 languages)
• Forgery protected design
• Rapid processing – no red tape
• Press sign for use in any car featuring the original press seal and register confirmations


Your Passport will be valid for the term stipulated in the pass. Choose from the following:

• Valid through 2022: can be extended by one year every year thereafter (Standard)
• Valid through 2023: can be extended by one year every year thereafter (Executive)
• Valid through 2024: a new pass can be issued as of 2025 (Ambassador)
Get your international passport of the press now and the coveted VIP status of the press scene along with it!
It will open doors
for you and help you establish contacts that can prove to be very im-portant for your journalistic work - and frequently also for your personal life.